Navigation:
Home
> Panhandle Outfitters Of Texas - Testimonials
Panhandle Outfitters Of Texas - Testimonials
Here's what a few of our customers have had to say about us.
Have a testimonial of your own to share? Click Here fill out our short testimonial form.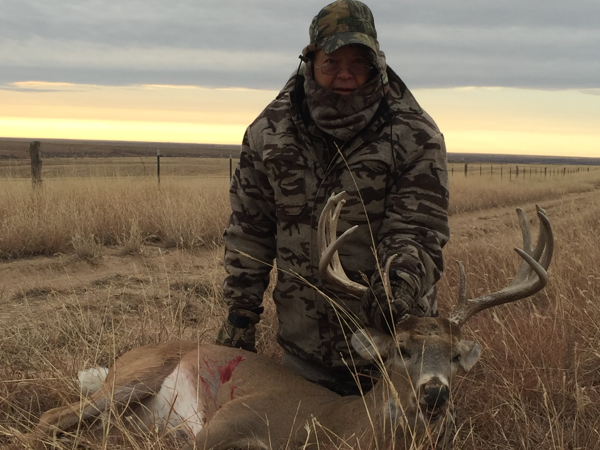 James Sumner
December 2017 - Carlisle, AR
Had a great time on a recent Father-Son hunt. I found the hunting to be excellent with blinds and stands that were clean and positioned in the most strategic places. The living quarters were very clean, and the food was good home cooking. The people were polite, and went out of their way to help in every way.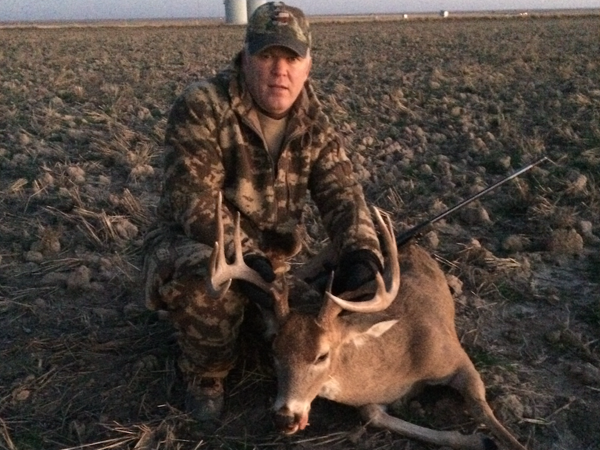 Paul Sumner
December 2017 - Carlisle, AR
Jason is a great host who goes out of his way to make sure your hunt is successful. I have been here twice - once with clients and the other with my dad. Both were very successful hunts! My dad and I were extremely happy with out bucks! Good buck to doe ratio. Deer stands are large and accommodating for any age hunter! Very nice, spacious and clean accommodations with good food as well.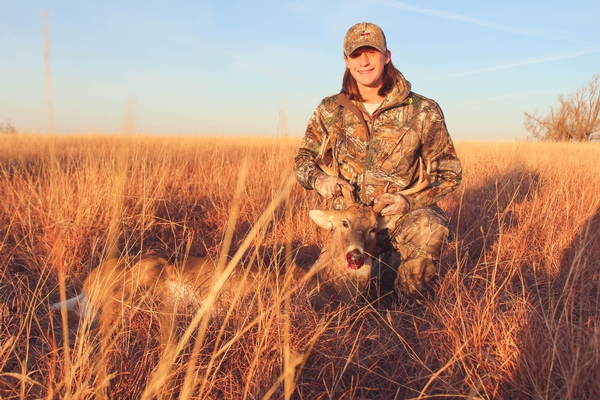 Cale Wright
November 2017 - Edmond, OK
Wow, my first deer hunt, and my first buck! I appreciate all the tips and instruction from Jason since I am just beginning and want to learn. The cabin is great with lots of snacks. The meals were outstanding and the servings all you can eat. Besides the deer my favorite thing about the trip was how friendly and helpful everyone was. I can't wait to go back.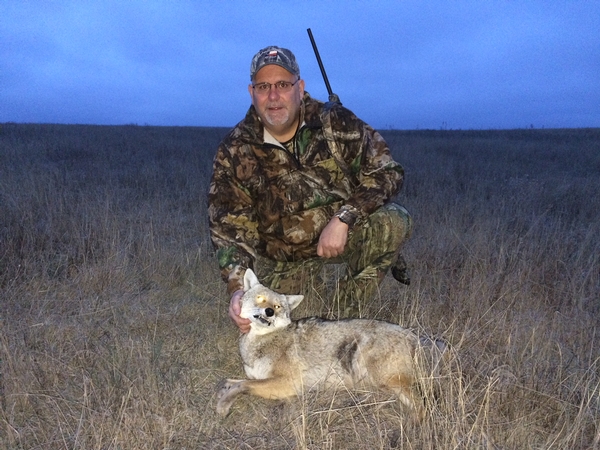 George Blankenship
March 2017- Harrison City, Pennsylvania
Jason is a top notch outfitter. He has great equipment, works extremely hard and he is very knowledgeable of his hunting property. I had a great predator hunt, hunting both day and night. I saw tons of coyotes and even a few bobcats. Can't wait to go back!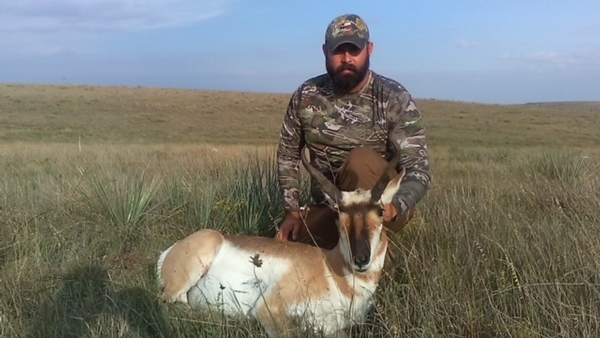 Zack McClary
October 2017 - Sunset, Texas
I had a great time, world class lodge and food. Jason was an excellent guide . He got me on antelope everyday of the hunt . I would suggest him to anyone looking for a guided hunt , and I can't wait to come back next year!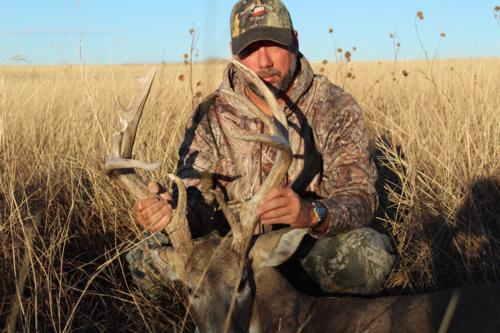 Heath
November 2016 - Forrest City, Arkansas
My hunt with Panhandle Outfitters Of Texas was exciting to say to least! The accommodations and food were terrific, along with a friendly atmosphere. Jason and his staff will allow you the freedom to do what is needed to take your trophy, and go to extra mile to do it! I could have never asked anything more of my guide Brodi. I would recommend Panhandle Outfitters Of Texas to anyone.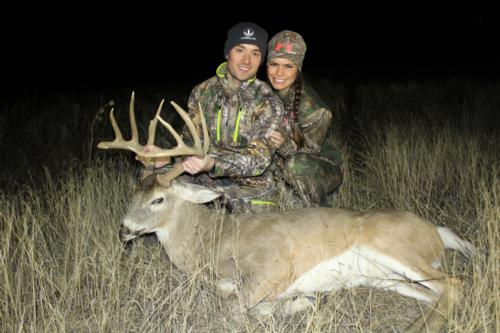 Keegan Cervin
December 2016 - Plano, Texas
I want to publicly thank Jason for an unforgettable weekend. My girlfriend and I found Panhandle Outfitters Of Texas online and booked a late season whitetail/predator combo hunt. Jason and team know their land, and the patterns of their game, they put me on the biggest buck of my life which scored 134 even with a broken brow tine and main beam. The lodge was very comfortable, the home cooked meals were delicious, and Jason's eager to please attitude were all greatly appreciated. We will be back next year..!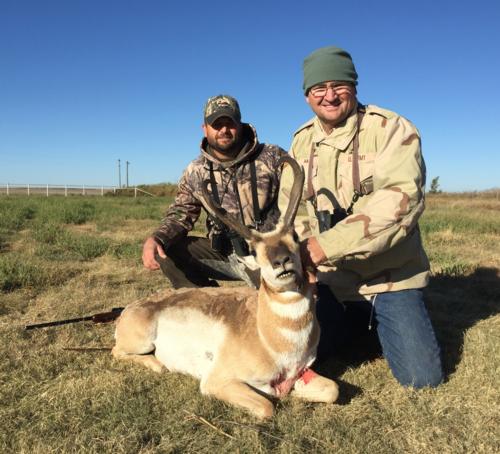 Jet Hays
Fall, 2016 - Salado, Texas
When you hire an outfitter you are really paying for three things; Access to land, Scouting, and logistical services. Jason and his guide, Keith provided outstanding service on all accounts. The scouting identified the hang out area of a truly outstanding Pronghorn Buck, The food and accommodations were excellent, and the land available was ample and exactly what you would expect in the Northern panhandle. Jason and Keith even humored my quirky preference to shorten the range for the shot by low crawling a couple of hundred yards. That is true client service! In short, this was an excellent experience and I highly recommend the hunting and organizational prowess of Jason Pshigoda, Keith Hagen, and the outstanding food prepared by Barbara Pshigoda. Panhandle Outfitters is a first class outfit and you can't go wrong in booking a hunt with them.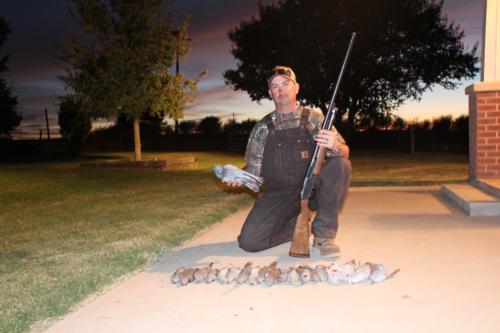 chad oliphant
Dove Hunt 2016 - Baytown, Texas
Had a blast hunting with Jason, awesome guy. I would recommend everyone to go up there. They are very welcoming from the time you get there and even after you leave. We'll be going back for more hunting with Jason. Thanks Jason for great memories!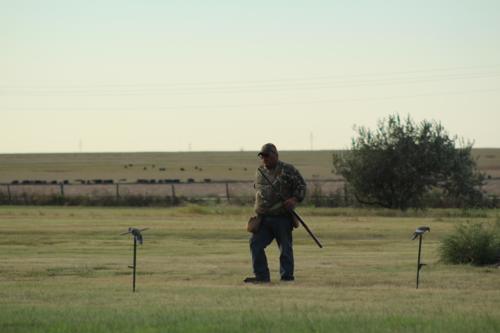 Jesus Hernandez
Dove Hunt 2016 - Weslaco, Texas
Love the hospitality and the good old Texas welcome. Cabin is awesome and very spacious. Lots of birds, and can't forget them rabbits, love them. Enjoyed my hunt, can't wait to do it again.
P.S. Thank you Jason Pshigoda for the opportunity!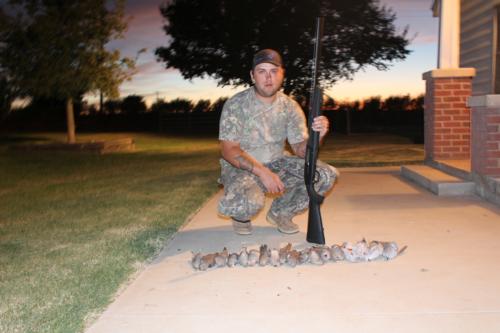 Kenneth Oliphant
Dove September 2016 - Independence, Louisiana
My experience at Panhandle Outfitters of Texas had to be two of the best hunts I've been on in my entire life! Mr. Jason runs a really awesome place. The abundance of birds and other wild life are phenomenal. I highly recommend going, and I promise you'll be headed back there! Mr. Jason definitely set the Bar high for any other guide I may encounter he's very knowledgeable and I received great hospitality and had a blast!!! I will definitely be back for a Buck of a lifetime!! Thanks again Mr. Jason!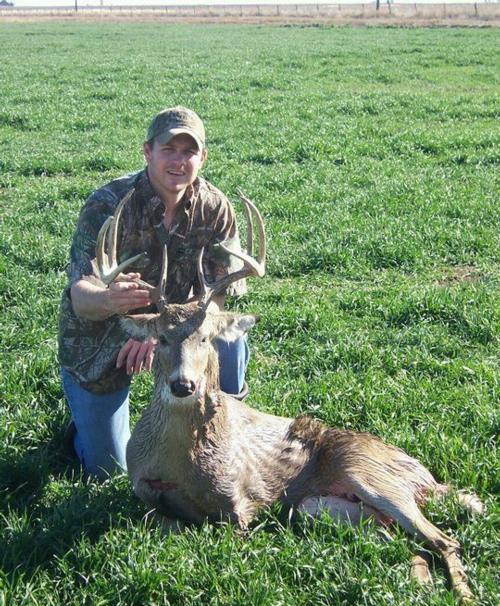 Ryan Thorn
Fall 2014 - Princeton, Texas
If you are looking for a great free range hunting experience this is the place...the friendliness and good times I've experienced here are bar none. You will feel like family as soon as you arrive. The food that Barbara cooks up is worth the trip alone. And you will never get stiff sitting in one of the giant deer blinds Jason has placed over the ranch. There is plenty of room for multiple hunter's gear and even cameras if you want to film a hunt.
Matt Burd
October 2015 - Weatherford, Oklahoma
My hunting trip with Panhandle Outfitters Of Texas was great! The abundance of wildlife was exceptional. I saw antelope, whitetail deer, mule deer and lots of coyotes (which is what I was after). I have already booked my predator hunt for next year!
Lee
February 2016 - Dallas, Texas
Jason at Panhandle Outfitters of Texas is running a first-rate operation with a huge amount of land, and the abundance of wildlife and variation that goes along with it. Not to mention his many custom built blinds that literally could double as apartments. Jason saw to it that we had a wonderful experience while engaging in a predator hunt recently on his land. In addition to Jason, we had a very knowledgeable and friendly guide named Brody that had a custom shooting platform built into the bed of his truck that gave the hunt a bit of a safari feel and really added a level of comfort and advantage you just don't get most other places. Jason and Brody were willing and eager to stay on the hunt as long as we wanted to into the early morning hours and the hunting spots seemed endless as we moved from one to the next, finding different scenic views of the Texas Panhandle landscape. And to cap it all off, we had steaming hot home-cooked, organic meals waiting for us in the morning and evening, thanks Barbara, your food was fantastic and was just what we needed after a full day/night of hunting. Thanks Jason, we will see you again for sure.
---
Send Us A Comment
To our past clients: We appreciate your comments and if you would, fill out the form with comments and a photo about your experience at Panhandle Outfitters Of Texas. Fields marked with * are required. Please enter the Name field how you want your name to read on our website (Examples: John Doe, J. Doe, John D., John Doe Corporation).