Navigation:
Home
> A Note From Our Owner Jason
A Note From Our Owner Jason
"It is my pleasure to introduce myself, and ​I am pleased that you are considering Panhandle Outfitters Of Texas, in the High Plains of the Texas Panhandle, as your hunting outfitters. I am actively involved in every step of your hunting experience, and every home cooked meal is provided by Pshigoda Girl's Farm. Panhandle Outfitters Of Texas offers unparalleled opportunities to hunt and enjoy nature on our privately owned land. You will be able to see deer, antelope and rio grande turkey, along with their natural predators, such as the coyote, bobcat and mountain lion. Not only is Panhandle Outfitters Of Texas a unique place to enjoy and interact with nature, but we are also very proud of the Texas hospitality, in which our guests are taken care of, while staying on the Farm and Ranch. I think you will find that our food, lodging, and hospitality are equal to the beautiful environment they reside in. If quality, uniqueness, and value set the standard for your next hunting trip, then Panhandle Outfitters Of Texas is the destination in your future. Please contact me, and I will personally put together your next Trophy or Predator Hunt!"​
Jason Pshigoda
Owner, Panhandle Outfitters Of Texas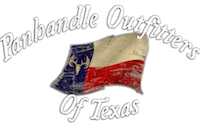 Panhandle Outfitters Of Texas
13797 County Road 20
Perryton, TX 79070
Owner - Jason Pshigoda
Phone - 806-228-3114
Email - jason@texaspanhandlehunts.com